Agencies and addresses
Providing comprehensive advice and personal support is a top priority at Suva. Our organisational structure is based on ensuring proximity to our customers.
Short and succinct
At its head office, 17 agencies, four military insurance offices and two clinics, Suva is there for you, for example in the event of an accident. You can count on committed, efficient and professional cooperation from Suva.
You can reach us by telephone from 8:00 a.m. to 5 p.m. at 058 411 12 12 or via the contact form.
Claims Competence Centre
In order to assist with any questions you may have about your accident and benefits efficiently, we have subdivided the Claims Competence Centre into four regions. This means that you will always be able to get in touch with the Claims Competence Centre responsible for you directly. It offers a consolidated point of call through which you can access the specialists you require, and can be reached by calling the corresponding number. When you call, you will be connected with an expert employee who specialises in the issue you wish to discuss.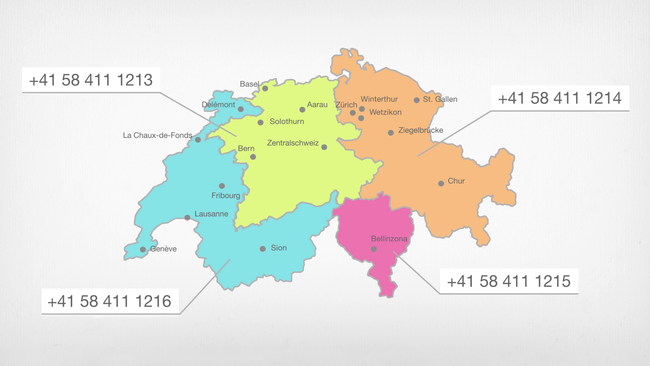 Head office
Fluhmattstrasse 1
6004 Luzern
Rösslimattstrasse 39
6005 Luzern